Our Qualified drivers
Our drivers' daily objective is to always do the utmost to give discreet satisfaction and accomplish with success their given mission.
Our drivers' professionalism allow us to offer a high level of service transportation in France, in Europe and abroad.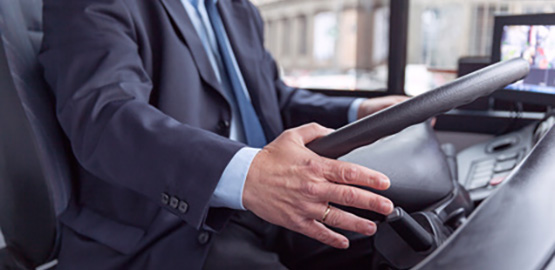 Competences and Specificities
Because our driver are the ambassador of our clients, we bring to your disposal professionals selected for their quality of service, involved and dynamic benefiting from a solid and significant experience on their profession. With a sense of hospitality and service, professional and competent, Magnum Normandie' drivers permanently adapt themselves to your needs guaranteeing you at every moment, punctuality, grooming, courtesy, efficiency and discretion.
Magnum Normandie' drivers are easily recognizable to their smile and availability and all work with an identical dress code (dark suits, white shirt, Magnum tie), at the forefront of our quality and presentation requirements. Magnum Normandie' operational team speaks multiple foreign languages according to your needs and those of your clients and transported guests.
English
German
Spanish
Portuguese
Italian
Arabic, Chinese, Russian, Japanese…
Our drivers are all vtc license holders, delivered by the police headquarters. Moreover they master perfectly the driving rules on the road and the highway code, know the best itineraries and have the necessary technical knowledge essential for a proper operation and maintenance of vehicles.
Most of our drivers are on a permanent contract (for more than 10 years for some of them), symbol of a developed entrepreneurial spirit. The quality follow-up of our teams of drivers and coordinators on the field allow us to always offer you quality services tailord to your specific needs.
Magnum Normandie trains its drivers in a "citizen and responsible" urban driving. This is essentially about raising awareness on urban driving which represents 86% of the duration of use of the vehicles by our clients. By quarterly sessions, we train internally our permanent and intermittent drivers to adopt a more environmentally friendly driving practice ( of specific training and written awareness).
This awareness allows to reduce quantities of fuels used in the context of transportation and contributes to preserve our environment. Magnum Normandie is thus engaged in a carbon offsetting process aimed at achieving the target of reducing CO2 emissions by 15% per year.
All the coach's drivers Magnum Normandie are D Licenced holders. Besides, in accordance with the directive 2003/59/CE of the European parliament and the Council of July 15, 2003, transposed into French law by the decree 2007-1340 of September 11, 2007, an obligation of initial qualification and continued training is necessary.
Moreover, we ensure a meticulous follow-up of the renewal of this continued training which takes place every 5 years. This training allows the driver to actualize its knowledge and perfecting its practice in terms of safety and professional regulation.
On another hand, in order to ensure your comfort on board, all our coach drivers are directly trained to the use of vehicles by Mercedes France.
In a spirit of security and in order to ensure the comfort of our passengers. All coach drivers received the training of rescuer of work. It allows to:
Mastering the conduct to be held and first aid gesture
Know who and how to alert in the company or outside the company
Identify dangerous situations in its company and know to whom and how relay this information
Potentially participate in the implementation of prevention and protection measures